JTF-PH07A/TCM Combined Type Domestic Combustible Gas Detector
Supplier Profile
Concentrating on gas safety for 20 years, Tianjin Puhai New Technology Co., Ltd(hereinafter referred to as Puhai) is a hi-tech enterprise integrating research, production and sale for providing the customers with advanced solutions and high-class technical service in combustible gas detection and hazardous gas detection alarm systemsPuhai has been awarded Certificate of ISO9001 Quality System, fire fighting certificate of the Ministry of Public Security of the People's Republic of China, manufacturing license for measuring instruments and explosion protection certificate. Some products have been certificated by CE, Russia and Ukraine (in terms of type) and Taiwan.
Products Introduction
JTF-PH07A/TCM Combined Type Domestic Combustible Gas Detector, to be applied in the domestic kitchen where Natrual Gas is used, can detect the leakage of Natrual Gas and incompleted burnt CO concentration exceeding the standard as well as ambient temperature ultra high.
On the occurrence of the alarm,Gas Detector will send out sound and light signal and conrtol to close off valve and cut off the supply of gas to prevent occurrence of natural gas explosive accidents, personal poison accident and fire accidents.
Technical Parameters:
1.Working Power Supply: AC220V±15%,overall power consumption is less than 3W;
2.Working temperature: -10℃ to 55℃;
3.Working Humidity: ≤95%RH (at 40℃);
4.Responsive time: not more than 30s (Methane);
5.Preheating Time:120S;
6.Sensor Service Life: will be 5 years under normal atomspheric enviroments;
7.Alarm Set Value: Natural Gas (Methane): 10%LEL;, Carbon Monoxide: : 240×10-6;Temperature: 57℃~70℃;
8. Linkage Output Mode: Low voltage DC solenoid valve/manipulator output;
Main Character:
1.International advanced semiconductor gas sensor with high sensitivity, stable performance, long service life and strong interference rejection is adopted;
2.Oil Resistance structural design;
3.Built-in Black Box Data Storage patented technology;
4.Two available power supply modes: 1) Power adapter; 2) Power Module.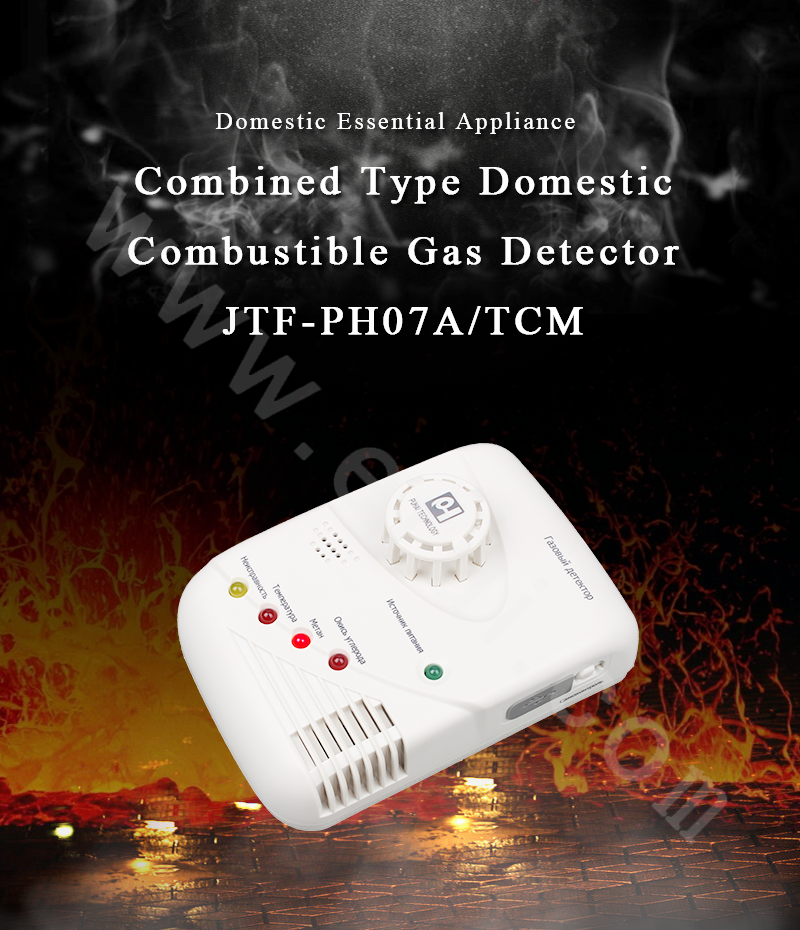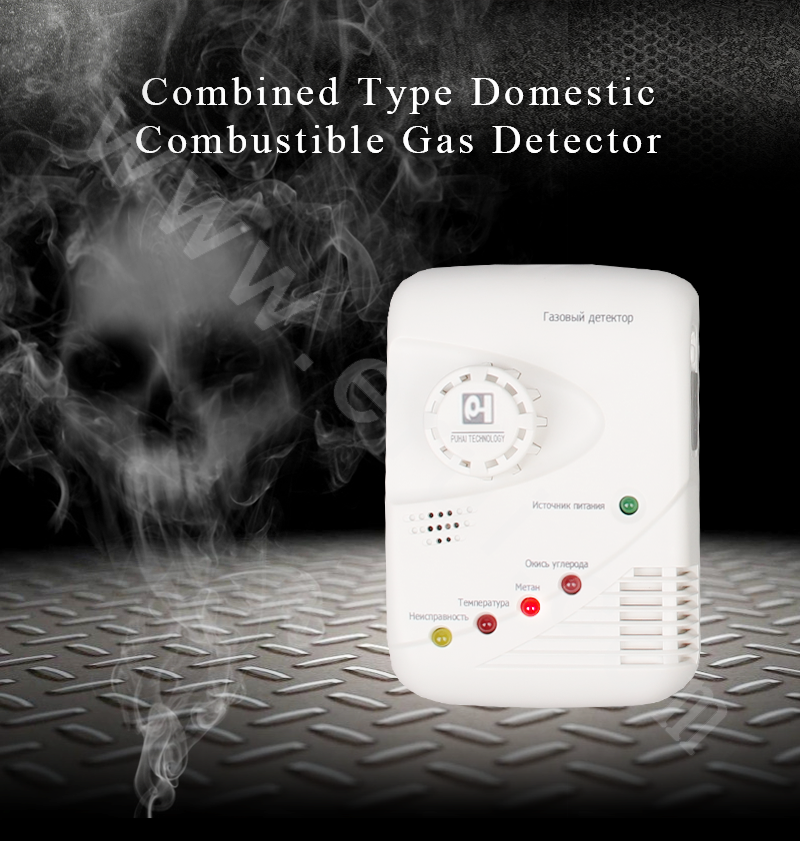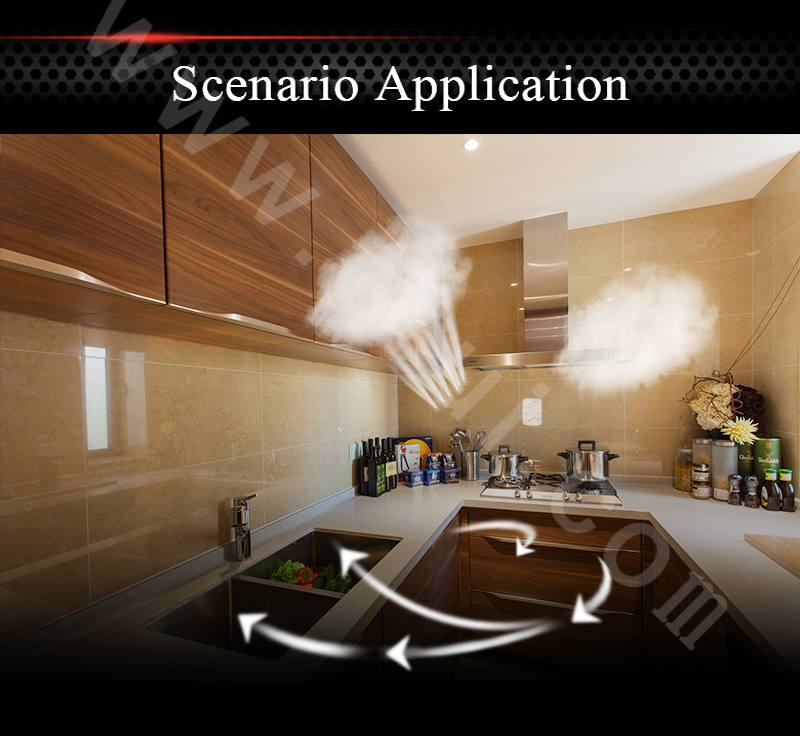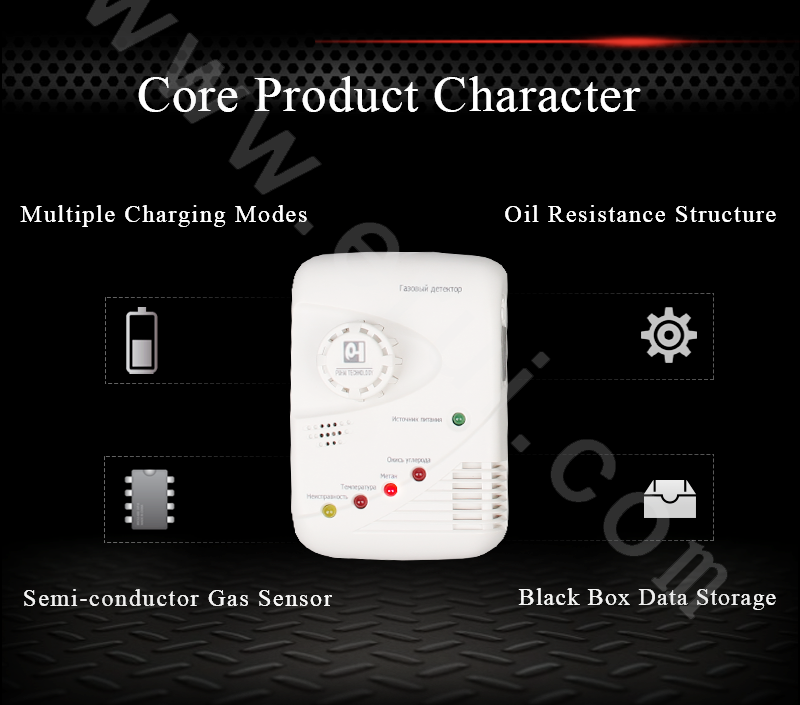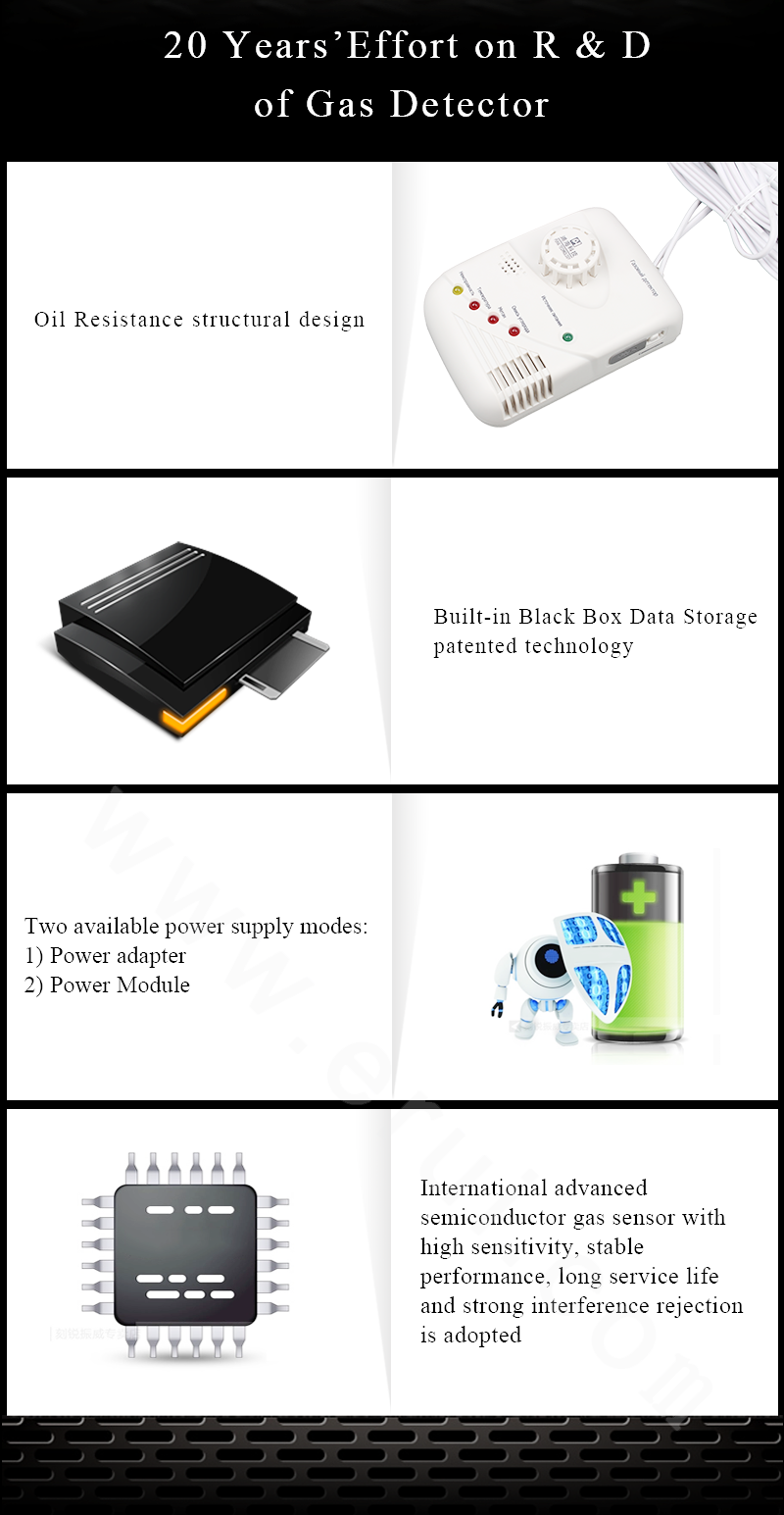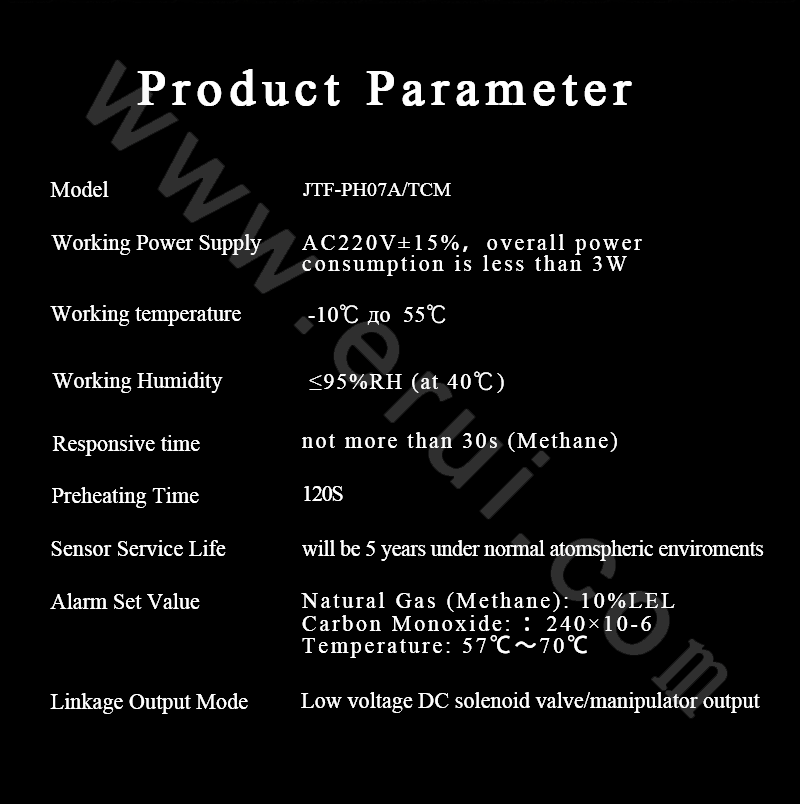 1、Working Power: AC220V±15%,the machine power consumption is less than 3W; 2、Working Temperature:-10℃~55℃; 3、Working Humidity:≤95%RH(when 40℃); 4、Response Time:No more than 30S(methane); 5、Preheating Time:120S; 6、Sensor life: The service life under normal atmospheric environment is 5 years; 7、Alarm set point: Natural gas (methane):10%LEL; Carbon monoxide (CO):240×10^(-6);Temperature:57℃~70℃; 8、Linkage output mode: Low voltage DC solenoid valve / manipulator output;